Profile FAQs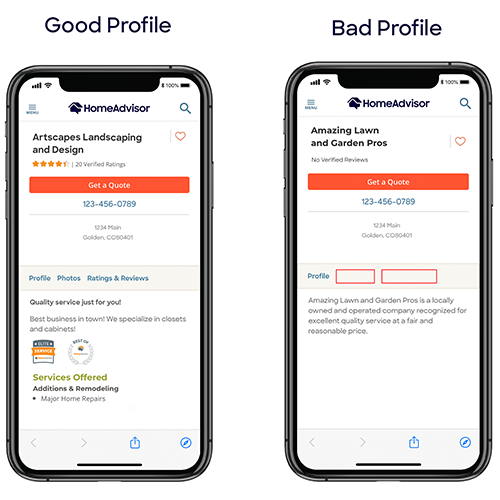 How do I edit my profile?
You can edit your profile directly from the Pro App or on desktop. Simply click the "Settings" tab and then "Profile" on the app, or the "My Profile" tab on desktop.
Why do I need a profile?
It's important to keep an updated profile to reach more homeowners. 9 out of 10 homeowners research pros online before hiring them. Pros with a robust profile receive 60% more customer contacts. The more information you provide, the better. Having a complete profile builds trust with homeowners
What does my profile include?
Your profile includes:
Current business information
Including accurate contact information, address and website.
Description and Tag Line
Customize your business description and write a tagline to stand out.
Business Details
Select all details that apply to you so homeowners can quickly see what you can do.
Areas of Expertise
Add up to 5 specialties that set you apart from your competition.
Business Hours
Display your business hours on your profile so homeowners know when you're available.
Services Offered
What projects do you offer and specialize in? List your work categories to help the homeowner decide if you can help with their project.
Service Locations
List the areas your business services.
Credentials
List your licensing, certifications and insurance to show homeowners that you have the credentials to complete their project with the utmost quality.
Websites
Be sure to list your website and social media so homeowners can find you outside of your Angi Leads (formerly HomeAdvisor Pro) profile.
Project Photos
Let your work speak for itself by uploading albums of previous projects directly to your profile.
Deals and Offers
Display any special deals or offers you want to give your customers.
Badges and Awards
You can earn badges for everything from annual milestones to reviews. These honors will be displayed on your profile to show homeowners that you're the best pro for the job.
Ratings and Reviews
Your ratings and reviews will be showcased  on your profile so homeowners can trust you are the right pro for the job.
How can I make my profile standout?
Fill out your profile with all necessary information, including photos. Check out our article- 4 steps to creating a winning profile.
What type of photos should I include?
Photos build trust and inspire projects so it's important to include them in your profile. Make sure you post only high-quality images. This means that you should only upload images that have a high-resolution. But don't worry! iPhone or other smart phone photos are still high-resolution. The best images to use are between 300 KB and 1 MB. Another important image to include are the before and after photos. Many homeowners like to see these because it gives them a better feel for how good something is when they can see how challenging it was originally. Finally, it's important to post a wide range of photos. Be sure that your range of photos represent the different projects that you can do! Check out these 4 reasons to add new project photos today!
---
Related Resources