How are Angi and other brands relevant to me as a HomeAdvisor pro?
Angi Purpose
Across Angi, HomeAdvisor, Handy and our other brands, our mission is to help people love where they live by becoming the home for everything home. HomeAdvisor pros are essential partners in this effort and you bring our mission to life each time you connect with a customer.
HomeAdvisor Powered by Angi:
You can receive leads from homeowners on HomeAdvisor.com. A homeowner can either fill out a questionnaire about their project or look through pros' profiles on the directory. Once they give their information, or request for you to contact them, this gets sent to you in the form of a lead. You can learn more about how leads work here.
Angi:
Angi, formerly Angie's List, is a sister company to HomeAdvisor. In addition to receiving leads on HomeAdvisor.com you can receive them from the Angi app or Angi.com. Homeowners can use the Angi app or Angi.com to answer questions about their project or find your profile. If you are sent a lead from Angi, it will say so in the lead details screen.
Pros who advertise with Angi and stay active on HomeAdvisor receive the broadest exposure across both platforms, including preferred presence in the Angi directory. We have technology in place to avoid duplicate leads being received for pros who are active on both. If you'd like to learn more about advertising with Angi or have questions about your Angi account, please call: 888-819-2644.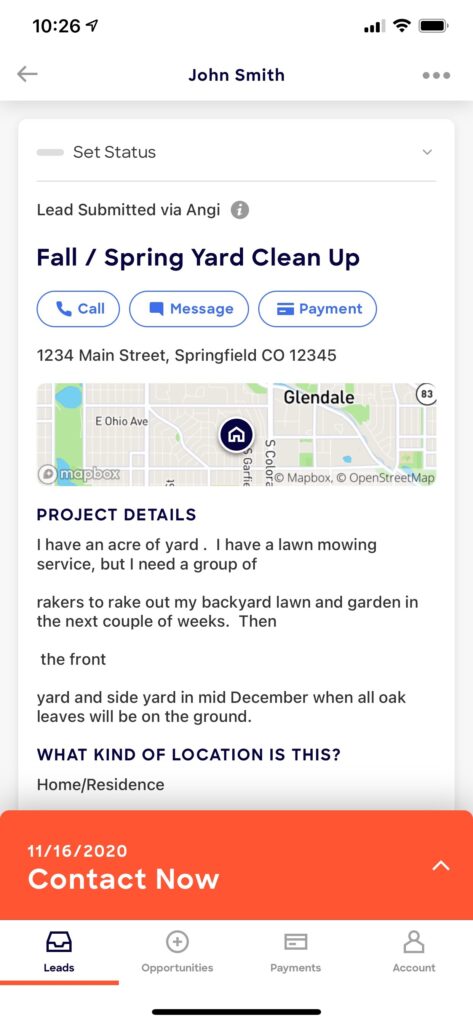 ---
Related Resources